| | |
| --- | --- |
| Rating: | ★★★★ |
| Category: | Movies |
| Genre: | Cult |
jadi film ini berceritakan tentang .....
ah, the hell with story line!
who cares?!
we're not coming for the story, man!
ACTIONS

!
ya iyalah, apa yang lo
expect
dari sebuah film yang isinya nama2 macam
Stallone
,
Li
,
Statham
,
Lundgren
,
Rourke
?
otot dan
testosterone
doang isinya!
dan yang sangat disayangkan the most skin we're gonna see off Jason Statham is that small of his lower back. bah!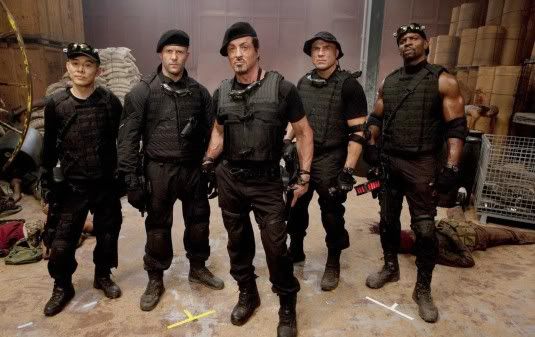 yang jelas, film ini seru dan 80's banget!
well, late 80's, early 90's that is.
jaman2 di sebuah stasiun tipi yang logonya kaya
US Postal Service
itu masih punya segmen saban
weekdays
yang judulnya
Layar Emas
. yep, film kaya
The Expendables
inilah yang ngisi segmen itu.
akting?
not much. tapi gue suka sih liat lelaki2 berotot gede ini curhat satu sama lain, mukenye itu lhoooo!! huahuahuahua!!
effects
?
better if there's no CGI.
banyak
scene
yang sebenernya gak penting, kalau mereka gak ada juga gak mengubah makna adegan keseluruhan. dan
too much close-up shots
! sampe2 kita bisa liat kerutan2 di wajah masing2 aktor. dan bedak yang gak rata.
angle2
yang diambil pun sangat mengingatkan akan film2 kejayaan tahun segitu.
buat cowoq2, jangan ngarep film2
testosterone
millenium yang isinya selain cowoq2 kekar, ceweq2nya pun berbodi tikungan dan tanjakan semua, plus muka
slutty
.
nope, sorry,
ceweq paling oke di film ini adalah
Charisma Carpenters
, yang pernah jadi Cordelia di
Buffy
dan
Angel
, dan itupun cuma 2 adegan. selebihnya? mbakteng hispanik yang ..... so 80's.
gue sempet bahas ini sama
Rendy
, kesimpulannya, emang agak aneh untuk sebuah daerah hispanik yang ndeso gitu, tiba2 muncul mbakteng bermuka
Malena
gitu.
ya .... makin kasian ya aktor2 kekar berotot gaek itu?
oh yeah, cameos by
John McClane
and
Governator
.
Bruce Willis
was sexy as always, especially the perfectly shaped head. and Governator?
the scene he's in a kinda reminding me to
End Of Days
, only, it as the other way
around. he was watching
Gabriel Byrne
doing what he did in
Expendables
.
hawt.
setelah menonton filmnya semalam, gue cukup mengerti kenapa sampe ada beberapa orang yang kasih
10 out of 10 di IMDB
. dan memang film ini cukup menyegarkan, di tengah2 film2 serius macam
Inception, Shutter Island, Inglorious Basterds, Angels and
Demons
, dan film2 action setengah2 macam
Predators
...
Expendables
menyajikan film yang gak perlu mikir, semua jelas,
black is black, white is white
, dan adegan2
action
dar-der-dor khas era 80's-90's yang sangat menghibur.
so, peeps
, kalau kalian mencari film yang menghibur, gak butuh mikir, tontonlah film ini!
recommended!
ps. images from Google Image Search